The Call To Separation
By R.J. Rushdoony
Because the subject of separation is either neglected or overstressed, a note on the matter is of importance.  A brief summary of key New Testament passages is thus in order.
First, Revelation 18:4 clearly calls for a separation from Babylon, from the dream of a one-world order without God.  This is clearly a call to political separation: it requires the believer to divorce himself from liberalism and from socialism, and, ultimately, it clearly requires a Christian political order.  This means a Christian party as a means to a Christian state  Since the dream of non-Christian politics is to create a working and finally perfect social order without God, and since the Christian must hold that such an order is futile and judgement-bound, Christian separation and action are necessary.

Second, in II John 10, 11, ecclesiastical separation is required.  A true church cannot receive false teachers or ministers without becoming partaker to their "evil deeds."  Since church services were in the New Testament era and later held in homes, the prohibition against receiving apostate religious leaders meant either as speakers or leaders, or as guests, since hospitality was then provided by believers.  This did not prohibit true ministers of Christ from speaking in synagogues, as Acts clearly evidences; it did prohibit receiving false teaching.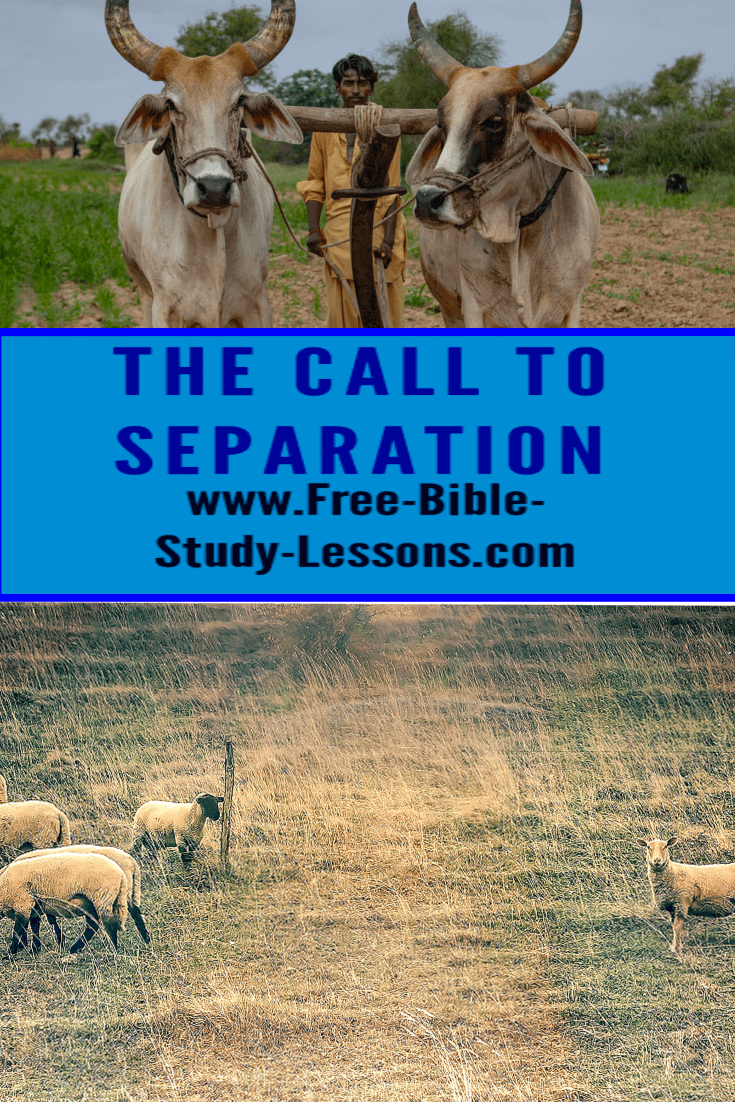 Ecclesiastical separation has as its necessary implication the severance of religious association with heretics.  St. Paul declared, "Mark them which cause divisions and offences contrary to the doctrine which ye have learned; and avoid them" (Rom. 16:17).  Paul also wrote to Titus, "A man that is a heretic after the first and second admonition reject" (Titus 3:10).  Even more bluntly, Paul declared "let him be accursed" who brings another gospel [Gal. 1:8, 9).  Jesus Christ himself spoke even more forcefully concerning false religious leaders, calling the Pharisees "children of hell" (Matt. 23:15), "hypocrites" (Matt. 23:13, 15 23, 25, 27, 29), "fools and blind…full of extortion and excess…serpents…generation of vipers…blind guide…children of them which killeth the prophets" (Matt. 23:19, 25, 33, 34, 31), and much more.  His attitude was not that of cooperative evangelism or promiscuous love.
The entire significance of the church is nullified if the church becomes itself an area of compromise and coexistence with unbelief, heresy, and hypocrisy.  The church is called to be holy, i.e. a separated congregation, a people set apart in terms of faith.  Without separation, the church is not a church.
Third, the Old Testament forbad mixed marriages.  The church now faced a different situation from that facing a covenant people.  In Israel, the believer should not marry an unbeliever.  But now, converts numbered men and women who were converted after their marriage, and their partners remained unconverted.  The question raised then was simply this: should such marriage be rendered null and void, or else subject the person to excommunication, as Nehemiah did with the mixed marriages of his day? (Neh. 13:23ff).  St. Paul's answer was that, the cases being different, such marriages should be maintained.  But, if the unbelieving partner departed or broke up the marriage, then the believer was free.  The marriage was then null and void (1 Cor. 7:10ff).
Fourth, the great general statement on separation is II Corinthians 6:14-18: "Be ye not unequally yoked together…."  The Greek word translated as yoked is eterozugeo, to be yoked with one of another kind, to come under a different or unequal yoke, to have fellowship with one who is not an equal.
Several things are clearly apparent in this passage, which is general in reference, so that first, it applies to marriage, business, education, worship, and all things.  Unequal yoking in any area is thus contrary to God's general purpose for His people.  And the yoking of believer with unbeliever in any capacity is unequal yoking.  The question is this:  Is the relationship a yoke?  Second, it must be a yoke, a voluntary submission or union which involves a contradiction of faith.  Third, unequal yoking prevents separation or holiness, and is therefore forbidden.  Fourth, unequal yoking involves the equality of belief and unbelief; it assumes that there is no difference between the believer and the unbeliever, and this we are not permitted to do.  Fifth, the yoking is comparable to marriage: it is a close and binding union.
A fifth passage is important also in relationship to separation, I Corinthians 5:9, 10, which forbad the congenial or religious association with sinners, but also made clear that general business and polite associations are not meant: "for then must ye needs go out of the world."  No yoke or submission is involved in such associations.
Beyond the plain letter of Scripture, there is Christian liberty, so that variations of practice are possible.  But none can make private concepts of separation a law of God.  The call to separation is real and specific.  To over-extend is meaning is as clearly wrong as to deny its meaning.
excerpt from Thy Kingdom Come: Studies In Daniel And Revelation by R.J. Rushdoony
Note: If you purchase one of these books from these links I will make a commission.  Disclosure Policy
---
---