A Spirit Of Power,
Love And A Sound Mind
by D. Martyn Lloyd-Jones
 For God hath not given us the spirit of fear; but of power, and of love, and of a sound mind.  2 Tim. 1:7, KJV

'God hath not given us the spirit of fear'.  What, then is the spirit He has given us?  Notice.  'God hath not given us the spirit of fear but of power - .'  That is what He puts first and rightly so.  We have a task, we know our own weakness.  Yes, but here is a power even for weaklings, and it means power in the most comprehensive sense conceivable.  Are you afraid that you will not be able to live the Christian life?  The answer is: 'Work out your own salvation with fear and trembling, for it is God that worketh in you both to will and to do'.  The fear and the trembling remain.  That is partly your temperament, but you are enable to work by the power 'that worketh in you both to will and to do'. 

So you do not become a person who is not afraid and one who is no longer subject to fear.  You still have to work out your own salvation in fear and trembling, but there is power in spite of that.  It is the power of God working in you 'both to will and to do of His good pleasure'.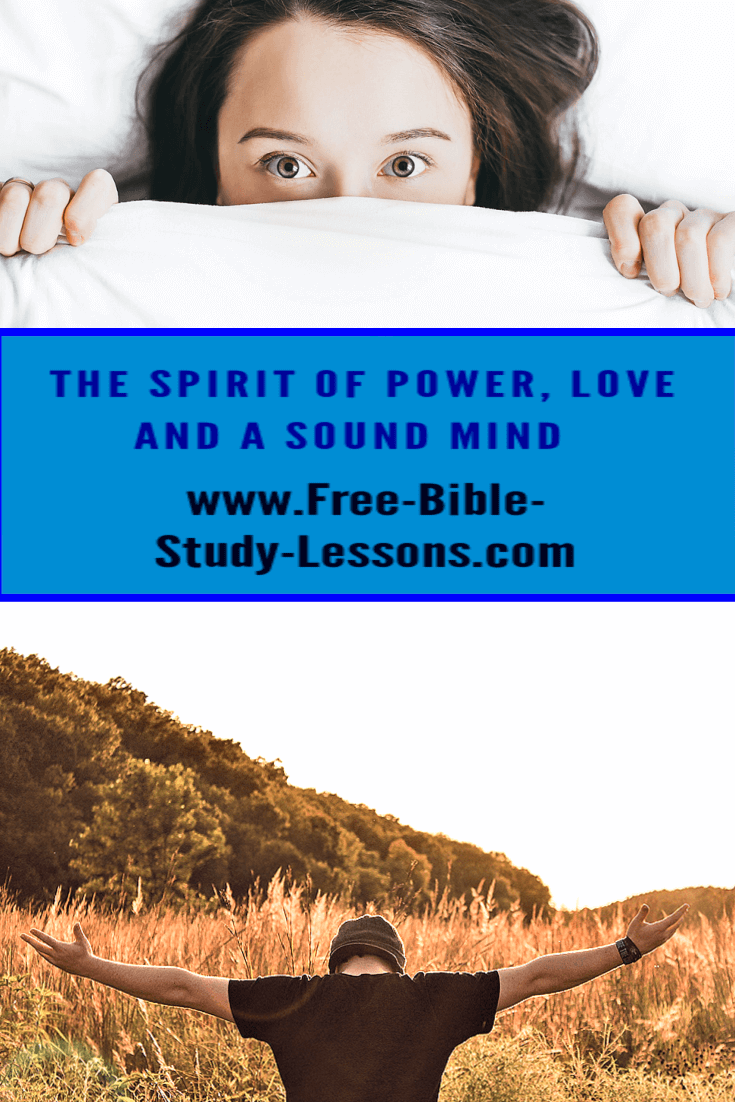 But this has reference not only to the question of living the Christian life, and battling with temptation and sin, it means also power to endure, power to go on whatever the conditions, whatever the circumstances, power to hold on and to hold out.  Let me go further, it means that the most timorous person can be given power in all things, even to die.  You see it in the apostles, you see it in a man like Peter who was afraid of death, afraid to die.  He even denied his Lord because of that fear.  He said: 'I do not know Him, I have had nothing to do with Him.'  He denied with oaths and cursing his own blessed Lord, his greatest benefactor, in order to save his life.  But look at him afterwards in the book of Acts of the Apostles.  The Spirit of power had entered into him and now he is ready to die.  He will face the authorities, he will face anybody.  That is one of the most glorious things in the long annals of the history of the Church, and it is still happening.  
I never tire of telling Christians to read the stories of the martyrs and the Confessors and the Protestant Fathers, of the Puritans and the Covenanters.  Read their stories and you will find not only strong courageous men, you will find weak women and girls and even little children dying gloriously for Christ's sake.  They could not in and of themselves, but they were given the spirit of power.  Now that is what Paul means here.  He says to TImothy: 'Do not talk like that.  You are talking as a natural man.  You are talking as if you yourself with your own power have to face it all.  But God has given you the spirit of power.  Go forward.  He will be with you.  You won't know yourself; you will be amazed at yourself.  And even though it may mean facing death, you will rejoice that you have been accounted worthy to suffer shame and even death for His glorious Name's sake.  Power!  It is given.  And what you and I have to do, as we are tempted to be depressed by the things which are against us, is to say: 'I have the Holy Spirit, and He is the Spirit of power'.
Then the next thing he mentions is 'love'.  Now I find this most interesting and fascinating.  I wonder how many of you would have put love a this point in our list?  Why, do you think, does he put it here?  What does he mean by it?  'God hath not given us the spirit of fear but of power - .'  Yes, I understand that I need power.  But love - why love?  It is surely not love that this timorous person needs?  Why does he put this second, the spirit of love?  Here is a superb bit of psychology, for what after all, is the main cause of this spirit of fear?  The answer is 'self' - self-love, self-concern, self-protection.  Had you realized that the essence of this trouble is that these fearful people are really too absorbed in self - how can I do this, what if I fail?  'I' - they are constantly turning in upon themselves, looking at themselves and concerned about themselves.  And it is just here that the spirit of love comes in, for there is only one way to get rid of yourself.  There is only one cure for self.  You will never deal with self yourself.  That was the fatal fallacy of those poor men who became monks and anchorites.  They could get away from the world and from other people, but they could not get away from themselves.  Your self is inside you and you cannot get rid of him, the more you mortify yourself the more your self will torment you.
There is only one way to get rid of self, and that is that you should become so absorbed in someone or something else that you have no time to think about yourself.  Thank God, the Spirit of God makes that possible.  He is not only 'the spirit of power', but He is also 'the spirit of love',  What does it mean?  It means love to God, love to the great God who made us, love to the great God who has made the way of redemption for us miserable creatures - for us who deserve nothing but hell.  He has 'loved us with an everlasting love'.  Think of that, says Paul to Timothy, and as you become absorbed in the love of God you will forget all about yourself.  'The spirit of love!'  It will deliver you from self-interest, self-concern, and from depression about self, because depression results from self and self-concern.  It gets rid of self at all points.  So talk to yourself about this eternal, amazing love of God - the God Who ever looked upon us in spite of sin and planned the day of redemption and spared not His own Son but delivered Him up for us all.
What then?  Go on to think of the love of the Son in its breadth, its length, its depth, its height; go on to know the love of Christ which passeth knowledge.  Think of Him who came from the Courts of Heaven and laid aside the insignia of His eternal glory and was born as a babe, worked as a carpenter and endured the contradiction of sinners against Himself.  Think of Him into whose holy face men spat and on whose brow they pressed a crown of thorns and into whose hands and feet the nails were hammered.  There He is on the Cross.  What is He doing there?  There He died for us, that you and I might be forgiven and reconciled to God.  Think of His love, and as you come to know something about it, you will forget yourself.
And then, love of the brethren.  Think of other people, their needs, their concerns.  Shall I go on?  Timothy seems to be been saying to himself, 'I might be put to death',  Paul says: 'Think of other people, look at those people perishing in their sins.  Forget yourself'.  Cultivate love for the lost and love for the brethren in the same way, and love for the greatest and noblest cause in the world, this blessed, glorious gospel.  Work it out for yourselves.  This is what the Apostle means by the spirit of power and the spirit of love.  If you are consumed by this spirit of love you will forget yourself.  You will say that nothing matters save the Christ who gave Himself for you, that nothing is too much for you to give.  You will, like Count Zinzendorf, have but one passion and it will be 'He and He alone'.  'The spirit of love!'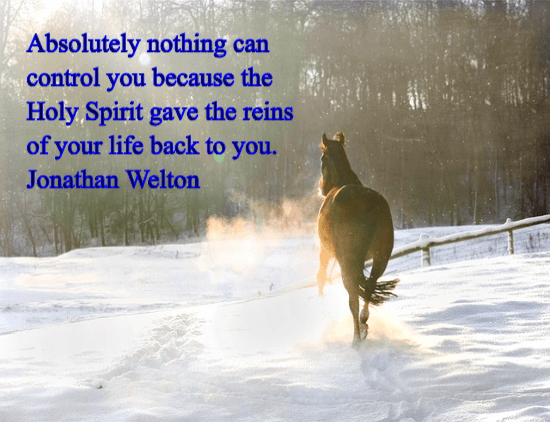 And, lastly, 'a sound mind' - 'not the spirit of fear but the spirit of power and of love and of a sound mind'.  What does this mean?  It is the right antidote for the spirit of fear - self-control, discipline, a balanced mind.  Though you and I may be timorous and nervous, the Spirit that God has given us is the Spirit of control, the Spirit of discipline, the Spirit of judgment.  Our Lord had already said all this before Paul thought of it.  Paul is but repeating and giving an exposition of our Lord's own teaching.  You remember what He said to His disciples when He sent them out to teach.  He warned them that they might be hated and persecuted and that a day might come when they would have to give up their lives, or certainly be put on trial for their lives.  But He went on to say:  'When they deliver you up, take no thought how or what ye shall speak; for it shall be given you in that same hour what ye shall speak'.  You will be on trial in court and they will be doing everything to catch you in your words,  but do not worry, says our Lord, for it shall be given you in that same hour what ye shall speak.  You need not be afraid, you will not lose your nerve; you will not be so excited and alarmed that you will not know what to speak; it will be given you in that self-same hour what to speak.  The spirit of wisdom and of a sound mind!
I can put this point very briefly in one illustration.  It is the soy of a comparatively young girl in the days of the Covenanters in Scotland.  She was going to attend a Communion Service held by the Covenanters on a Sunday afternoon, and, of course, such Communion Services were absolutely prohibited.  The soldiers of the King of England were looking everywhere for people who were going to meet together to partake in this Communion Service, and as this girl turned a corner on her way she came face to face with a band of soldiers, and she know that she was trapped.  For a moment she wondered what she was going to say, but immediately on being questioned she found herself answering"  'My Elder Brother has died and they are going to read His will this afternoon, and He has done something for me and has left something for me, and I want to hear them read the will'.  And they allowed her to go on.  
'God hath not given us the spirit of fear but of power and of love and of a sound mind' - wisdom, discretion, understanding.  He will make you as wise as serpents; you will be able to make absolutely true statements to your enemies but the enemy will not understand, and you can escape.  Ah, yes, her Elder Brother had died.  Christ died for her and in the Communion Service the will was going to be read out again and she was going to be reminded of what He had left for her and done for her.  You see, the most ignorant and the most nervous in the Kingdom of Christ is given a sound mind and the spirit of wisdom.  Don't worry, says Christ, it shall be given you in that self-same hour what ye ought to speak.  He will tell you what to do, He will tell you what to say, He will, if necessary, restrain you.  
We are not living on ourselves.  We must not think of ourselves as ordinary people.  We are not natural men; we are born again.  God has given us His Holy Spirit, and He is the spirit 'of power and of love and of a sound mind'.  Therefore to those who are particularly prone to spiritual depression through timorous fear of the future, I say in the Name of God and in the words of the Apostle:  "Stir up the gift', talk to yourself, remind yourself of what is true of you.  Instead of allowing the future and thoughts of it to grip you, talk to yourself, remind yourself of who you are and what you are, and of what Spirit is within you; and, having reminded yourself of the character of the Spirit, you will be able to go steadily forward, fearing nothing, living in the present, ready for the future, with one desire only, to glorify Him who gave His all for you. 
Excerpt from Spiritual Depression Its Causes And Cure by Dr. Martyn Lloyd-Jones.
Note: If you purchase one of these books from these links I will make a commission.  Disclosure Policy
---
---