Spiritual Needs Or Physical Needs:
Which Do We Meet First?
by Anne Graham Lotz
As "Jesus went up on a mountainside and sat down with his disciples" [John 6:3] they must have collapsed on a carpet of green grass covered with multicoloured wildflowers. The snowcapped peak of Mount Herman would have provided a dramatic backdrop while the glassy blue Sea of Galilee stretched out to the horizon in the spectacular foreground. Their weary, parched spirits must have drunk in the serene beauty like men coming out of a sun-scorched desert who thirstily guzzle water. As they began to rest and relax, surely they began to talk and question and discuss and listen. As they rested together, we have the beautiful picture of the Good Shepherd, making His sheep lie down in green pastures, leading them beside the still waters, that He might restore them on the inside. Jesus knew the demands that would be made on the disciples and Himself that very day, and He knew in order to meet those demands, they had to have some time alone together.

Again and again, I have been amazed to discover that the verse of Scripture or thought or insight that God seems to give me in my early morning quiet time with Him is the very same verse or insight or thought I am called on to give to someone else during the day. Many times I have wondered how I would have been able to speak a "word that sustains the weary," had I not first received it for myself in those brief, early morning retreats. Jesus offers us ample resources, but we have to receive them from Him in order to impart them to others.
As the disciples lay back on the hillside, perhaps, chewing on long stems of grass, relishing the beauty and the serenity, I wonder which one first spotted the intruders. Thousands of them…It was Passover time, it was a national holiday, it was springtime, and it must have seem the perfect day to join Jesus for a picnic in the hills…
Jesus and His disciples had been on the green-carpeted hillside since early morning. Very likely they had had some precious time to themselves before being invaded by the "sheep," who would not have appeared until late morning or noon. But when the thousands of men, women, and children did arrive, Jesus "began teaching them many things." Before meeting the physical needs of the people, Jesus met their spiritual needs.
From time to time within the church, a heated debate surfaces that on occasion had caused great division. In the words of E. V. Hill, the great pastor from Watts in Los Angeles, the debate can be summarized as, "Win 'em or feed 'em, feed 'm or win 'em?" In other words, what has priority within the church? Social activism or evangelism? Dr. Hill has elaborated from his personal experience that no meal in the world could ever have satisfied the starvation of his soul.
Give Them Jesus

We can feed the hungry, and house the homeless, and clothe the naked, and heal the sick, and comfort the dying, but unless we give them Jesus, they will all go straight to hell!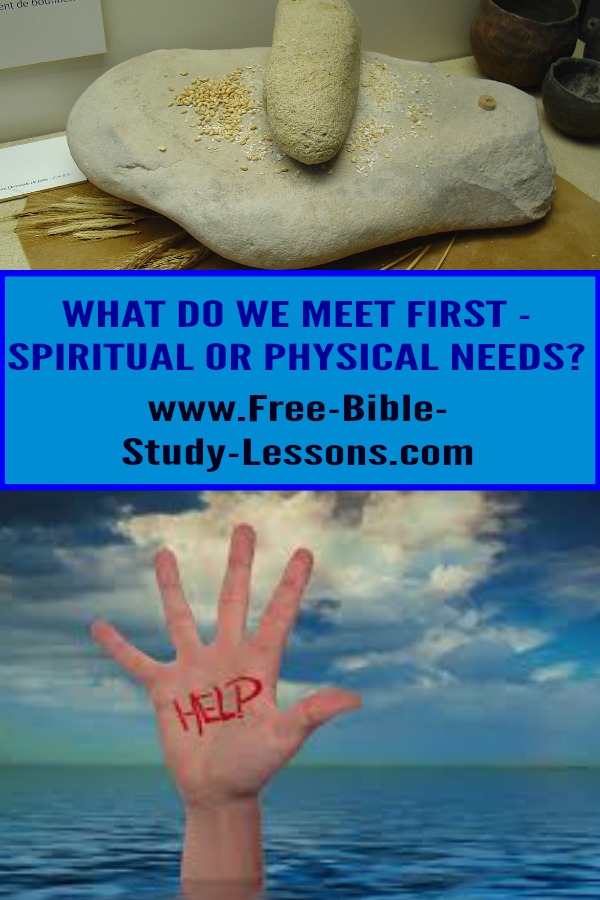 My grandfather was a medical missionary to China for twenty-five years. He established a three-hundred bed hospital where he treated just about every type of illness and injury that could be named. Many of his Chinese patients were cured of diseases and saved from death by his skilled ministrations. But in time, every single one of the people who went through his hospital died! If all my grandfather had accomplished was to meet the physical needs of these people, his efforts would have been hopelessly futile. But my grandfather was wise. He knew that "man is destined to die one, and after that to face judgment," and so all of his ambulatory patients were required to attend chapel every day in the hospital where they were given a Bible lesson and presented with the Gospel of Jesus Christ. Those who were unable to leave their beds were visited personally by someone who would share Christ with them. Hundreds, and even thousands, of Chinese men and women received Jesus Christ as the Lord and Savior at the Love-and-Mercy Hospital in Tsingkiangpu. They had their spiritual needs met while their physical needs were being attended.

Certainly if someone were literally starving to death, we would not be so callous as to present that person with the gospel without first giving him or her something to eat. But I can't help but wonder, on that beautiful spring day in the Galilean hills, if Jesus wasn't giving you and me an object lesson about our priorities in meeting the needs of others. Was He showing us by His own example that the spiritual needs of a person are more important that the physical needs? Jesus met the spiritual needs first.
In that crowd of thousands congregating on the hillside, there would have been so many spiritual needs! In that crowd were those who were divorced, depressed, diseased, demon-possessed, drug dependent.
In that multitude would have been crabby people, happy people, complaining people, contented people, mean people, kind people, selfish people, thoughtful people, critical people, encouraging people, frightened people, calm people.
There were so many needs to be met! Needs just like those in your neighbourhood and your city and your state and your country and our world.
Often, when I arrive in a city to participate in come conference or seminar, the organizers will take me aside and tell me privately about the various people who will be attending. They describe the multitude. People with broken hearts and broken homes and broken dreams and broken hopes. And then they say, "Anne, we want you to know about so-and-so because we're hoping you will say something that will meet his or her needs." If I accepted that burden, I would be crushed under it! There's no way I can meet all those needs, so I usually respond with something like, "That's impossible! There are too many diverse needs. I can't address that all individually. But I can give them Jesus." And again and again, I have seen Jesus personally meet the spiritual needs of the multitude - one by one.
Jesus has given me ample resources to meet the spiritual needs of others because He has given me Himself and He has given me His Word. But in order to meet the spiritual needs of the multitude, I have to spend hours alone with Him in the prayerful meditation of His Word so the my spiritual needs are met. At the same time, I need to remember that Jesus also met the physical needs of the crowd.
excerpt from Just Give Me Jesus by Anne Graham Lotz
Note: If you purchase one of these books from these links I will make a commission.  Disclosure Policy
---
---