Would you like to see what we have written on a subject? Use the search below.
God's Battle Plan
What was going to be Joshua's battle plan as he was coming to his first big battle in the Promised Land?
"And the LORD said unto Joshua, See, I have given into thine hand Jericho, and the king thereof, and the mighty men of valour." Joshua 6:2
Many times God had promised the land to Israel [on condition of obedience], but now they were actually standing on the ground. Joshua was looking up at those towering walls lined with experienced warriors opposing him. What was he going to do? How was he going to lay siege to it? How long would it take - attacking a fortified city could be a bloody affair taking years.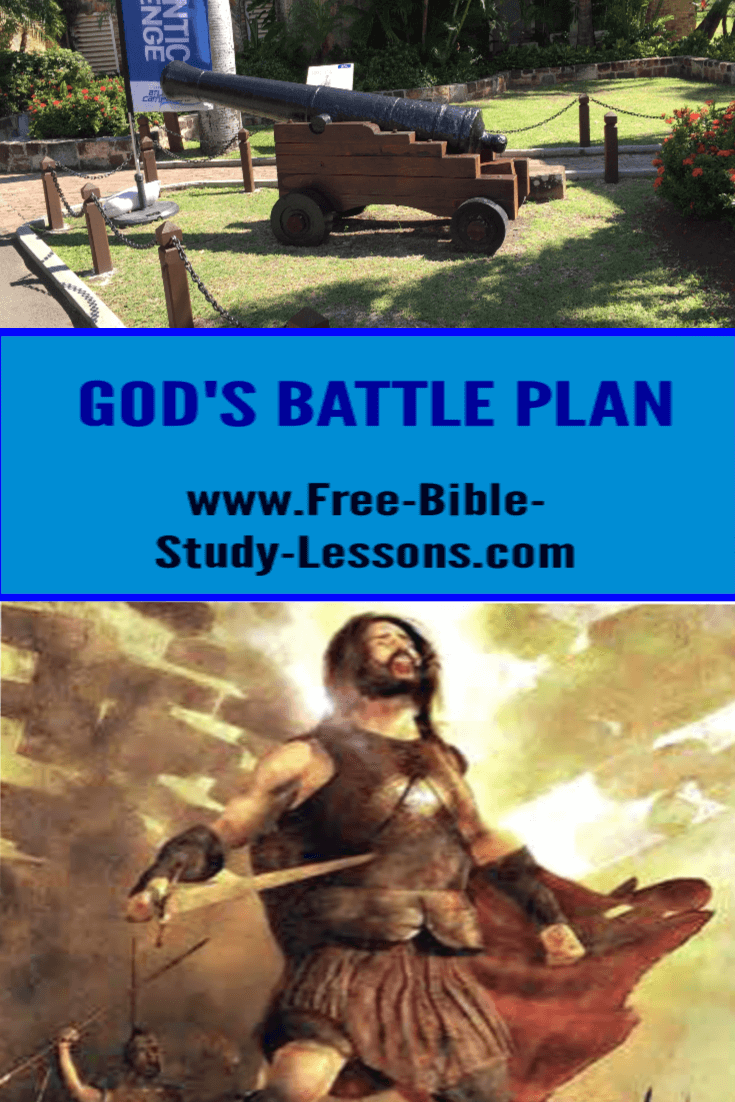 As he thought about it, God showed up and promised that Jericho would fall and then he laid out the strategy. It was certainly not the battle plan that had been rolling around in Joshua's mind. No one had ever fought a campaign like that before. It was a new day with new ideas. The Canaanites would laugh during the first six days and if it didn't work Joshua would be the laughingstock of the world. He would go down in history as the craziest general who ever lived.
But Joshua didn't doubt. He had a word from God and that was enough. We know the rest of the story.
Of course, we know the Old Testament is a picture of New Testament reality. In the New Testament era God has promised His people, the Church, the entire world - on every level. It is His both through right of creation and right of redemption. We stand in the land and look at the towering walls of enemy strongholds. These strongholds are everywhere - in our own lives, in our families, at work, in our communities/nations, and even in our churches. Like Joshua, we may wonder what to do and how long it will take.
Battle Plan Numbers

First, we need to realize that God's strategy is not concerned with either time or numbers. God will use whoever is trained and available. One person with God can shake the world with a battle plan from God. And God will take as much time as is needed to do the job right. It could be day, it could be a thousand years.
Practical Battle Plan

Second, we need to get rid of a lot of our "romantic" ideas about spiritual warfare. In our minds we think about coming against people or demons and overpowering them for God. We imagine sweeping changes because we have prayed or quoted Scripture, or whatever. Of course, that's what the devil wants us to imagine, because it will keep us from the real battle plan.
Note: If you purchase one of these books from these links I will make a commission.  Disclosure Policy
In reality spiritual warfare is not "romantic" but just plain hard work. Spiritual warfare, which you see as you read the New Testament, is choosing to align our lives with the Word of God. It is treating our spouse with respect even when we would like to make a biting comment. It is loving our children instead of getting angry and exploding at them. It is doing our best at work even when all we get is criticism or frustration. It is making time to know God through prayer and Bible Study even when our schedules are already full. It is the life of a disciple - a disciplined learner - reflecting the thoughts and attitudes of Jesus Christ in the every day events and problems of our lives.
You see, God is wise. He believes in training and He will never put us in a situation if we are not trained to handle it. [Sometimes we jump in over our heads, but that's not God's fault.] David defeated his lion and bear before he ever heard of Goliath. If we cannot conquer the "Jerichos" of sin or problems in our own lives or families, then God cannot use us in any great way further out. Disciplining and showing the attitude of Christ in our own lives and our own families is the training ground for engaging the enemy in other areas. If we can't successfully defeat the works of Satan in our personal realm we are only fantasizing if we think we can defeat him in our communities.
Does this mean we become introverted or must be perfect before God can use us? Not at all. We are all on a journey of discipleship. We will always be learning and growing. But it is only to the degree that we are able to successfully engage God's battle plan against the enemy in our own lives that we will be able to engage him in taking the world for Christ. What I am trying to do is bring your attention to the fact that this is incredibly practical. We must work on purifying our lives and then God will be able to use us in His battle plan [not ours] when and where He wants us. But if we are just dreaming of the big battle and ignoring our personal lives then we are living a fantasy and God will not use us in the big battles at all because He loves us too much to see us crushed by the enemy.
I don't want to leave the impression that this is a "work" that we do on our own. God is the One who gives the order and the strategy. We discover it as we spend time in His Word, in prayer, and in silence. And when we blow it, we ask for forgiveness, refuse to live in condemnation, and re-examine the strategy we were using to see why it failed and what we need to do the next time...for there will be a next time.
I know that you are on the journey. Do not be discouraged, but view the problems and temptations you face as training exercises in the destiny God is preparing you for...not just in this life but also in the one to come.
For more information about Glenn Davis see our About Glenn page and/or his Author's Page.
---
---