Desire God Above All Things
by D. Martyn Lloyd-Jones
"Whom have I in heaven but thee? and there is none upon earth that I desire besides thee. My flesh and my heart faileth: but God is the strength of my heart, and my portion forever." Ps. 73:25-25
What does he mean? What is he saying? I am sure the first thing in his mind was a negative and that he was making a negative statement. By his very question he is saying that, as the result of his experience, he has found that there is no-one else anywhere who can help him, that no-where is there any other Saviour. "Who is there who can help me in heaven or earth but Thou?" he asks. There is no-one else. When things have gone wrong, when he is really at the end of this tether, when he does not know where to go or to whom to turn, when he needs comfort and solace and strength and assurance, and something to hold on to, he has found that there is no-one apart from God.

Now his negative is important for us all. Indeed, I thank God for that negative because I find it very comforting. For I imagine that what this man is saying is that, despite his imperfections, despite his failure, when he was away from God, and more or less turning his back upon Him, he could find no satisfaction. In his experience, when he was wrong with God he was wrong everywhere. There was an emptiness about his life - no satisfaction, no blessing, no strength - and even though he was not able to make any positive statement about God, he could at least say there was nothing and no-one else! Now that is a very comforting thought. Are we able to use this negative, I wonder? If we are afraid of the positive test, how do we stand with this negative test? Can we say that we have seen through everything in this life and world? Have we yet come to see that everything that the world offers is a 'broken cistern'? Have we really been enabled to see through the world and its ways and all its supposed glory? Have we come to the point where we can say" Well, I know this much at any rate; there nothing else that can satisfy me. I have tried what the world has to offer, I have experimented with all those things, I have played with them and I have come to this conclusion, that when I am away from God, to quote Othello, 'chaos is come again.'
This is an important aspect of experience, and a very vital one. Anyone who has been a backslider knows exactly what I am saying…The backslider is a man who, because of his relationship to God, can never really enjoy anything else. He may try, but he is miserable while it lasts. He has seen through it. This, therefore, is something by which we may always test ourselves. In a remarkable way we have in this confession a striking test of our Christian faith and belief. That is often the first step in our recovery - a realization that everything has actually become different, 'old things are passed away; behold, all things are become new.' Things of the world do not seem to possess the charm and valour they once seemed to have. We discover that when we are not in the right relationship to God the very foundations seem to have gone. We may travel to the ends of the earth in an attempt to find satisfaction without God. But we find that there is none.
Positive Desire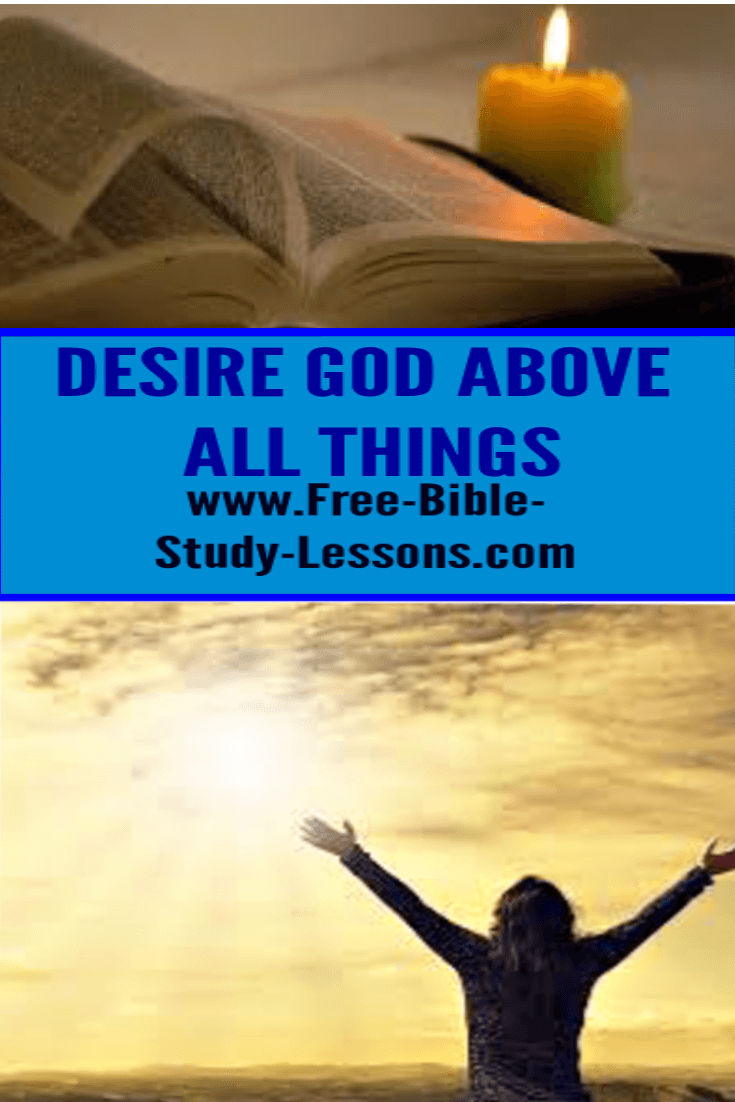 But obviously we do not stop with the negative. This statement is also a very positive one. Let me emphasize this by analyzing this man's positive assertion. He is saying in the first place that he now desires God Himself, not only what God gives or what He does. Now that is a most important statement, for this reason. The whole essence of the Psalmist's problem, in a sense, was that he had put what God gives in the place of God Himself. That was what underlay his problem concerning the ungodly. They were having a good time, so why was he having such a bad time? Why had he been plagued all the day long? Why was it that he seemed to have cleansed his heart and washed his hands in innocency in vain? Why was it he thought like this? His trouble was that he was more interested in the things that God gives than in God Himself, and because he did not seem to be having the things he wanted, he began to doubt God's love. But now he has come to the place in which he can say quite honestly that he desires God Himself as God, and not only what God gives and what God does.
Ultimate Test

Let me put this as strongly as possible. The ultimate test of the Christian is that he can truly say that he desires God even more than he desires forgiveness. We all desire forgiveness, and rightly so; but that is a very low state of Christian experience. The height of Christian experience is when a man cay say, 'Yes, but beyond forgiveness what I desire is God, God Himself.' We often desire power, and ability, and various other gifts. There is a sense in which it is right to desire them. But if we ever put those things before God, again we are proclaiming that we are very poor Christians. As Christians we desire blessings of various types and pray to God for them, but in doing so we may sometimes be insulting God in a sense, because we imply that we are not interested in Him but in the fact that He is able to give us these blessings. We desire the blessings and we do not stop to enjoy the blessed Person Himself. This man had been through all that, and now has come to see that the greatest of all blessings is just to know God and to be in His presence.
There are many examples of this in the Bible. Psalm 42:1,2 expresses it perfectly, 'As the hart panteth after the water brooks, so panteth my soul after Thee, O God.' That man is crying out for this direct knowledge of God, this immediate experience of God. His soul 'panteth', he is 'thirsting' for Him, the living God. Not God as an idea, not God as a source and fount of blessing, but the living Person Himself. Do we know this? Do we hunger for Him and thirst for Him? Are our souls panting after Him? This is a very profound matter, and the terrible thing is that it is possible to go through life praying day by day and yet never realizing that the supreme point in Christian experience is to come face to face with God, to worship Him in the Spirit and in a spiritual manner. Do we know that we are doing business and having dealings directly with the living God? Have we known His presence? Is He real to us? Or let me put it on a lower level. Are we longing for and seeking that? Are we without satisfaction until we have it? Is the greatest desire of our hearts and our highest ambition, beyond all other blessings and experiences, just to know that we are there before Him and that we know Him and are enjoying Him? That is what the Psalmist desires in the Psalm 42; that is what this Psalmist of ours in Psalm 73 was actually enjoying.
The apostle Paul says exactly the same thing in Philippians 3:10. 'If you ask me,' says Paul, 'what my greatest desire is, it is this" "That I may know Him."' You notice his supreme ambition. Let me not be misunderstood as I put it plainly. His supreme ambition was not to be a great soul winner. That was one ambition of his, and a right one. It was not even to be a great preacher. No, beyond it all, including it all, 'That I may know Him.' Because, as the apostle reminds us elsewhere, if you put the other things first you may find yourself, even as a preacher, becoming, in a sense, a castaway. But when we put Paul's desire at the centre there is no danger. Paul had see the face of the living Christ, the risen Lord. Yet what he hungers for and pants after is this further, deeper, more intimate knowledge of Him, a personal knowledge, a personal revelation of the living Lord in a spiritual sense.
Nothing But God

There is nothing higher than this. Look at the aged John writing his farewell letter to Christians. His great desire, he tells them in 1 John 1:4, is 'that your joy may be full.' How is it to be full? 'That ye also may have fellowship with us,' that you may share with us as partners the blessed experience we enjoy. And what is that? 'Our fellowship is with the Father, and with his Son Jesus Christ.' It does not just mean that you are engaged in God's work. It means that, of course; but that is the lowest level. The highest level is to really know God Himself. 'This is life eternal, that they might know thee the only true God, and Jesus Christ, whom thou hast sent' [John 17:3]. Indeed, we have the authority of our Lord Himself, not only in the statement I have just quoted but in another statement. When a man asked Him which was the greatest commandment of all, He said, 'Thou shalt love the Lord thy God with all thy heart, and with all thy soul, and with all thy mind…And the second is like unto it, Thou shalt love thy neighbour as thyself' [Matthew 22:37,39]. The first thing, the most important thing in life, is that we so know God that we love Him with the whole of our being. To be satisfied with anything short of that, or with anything less than that is to misunderstand the whole end and object and purpose of Christian salvation. Do not stop at forgiveness. Do not stop at experiences. The end is to know God, and nothing less. This Psalmist is able to say that he now desires God for His own sake, and not merely for what God gives and does.
Now let me put it another way. This man not only desires God Himself, he desires nothing but God. He is exclusive in his desire. He elaborates that. He says that he desires nothing in heaven but God. What a statement. 'Whom have I in heaven but thee?' May I ask another question - and I think it is these simple questions that really tell us the whole truth about ourselves. What are you looking for and hoping for in heaven? Let me ask a question that perhaps should come before that. Do you ever look forward to being in heaven? That is not being morbid. I like the way in which Matthew Henry put it: 'We are never told in the Scriptures that we should look forward to death; But we are told very frequently that we should look forward to heaven.' The man who looks forward to death simply wants to get out of life because of his troubles. That is not Christian; that is pagan. The Christian has a positive desire for heaven, and therefore I ask "Do we look forward to being in heaven? But, more than this, what do we look forward to when we get to heaven? What is it we are desiring? Is it the rest of heaven? Is it to be free from trouble and tribulations? Is it the peace of heaven? Is it the joy of heaven? All those things are to be found there, thank God; but that is not the thing to look forward to in heaven. It is the face of God. 'Blessed are the pure in heart: for they shall see God.' The Vision Splendid…to stand in the very presence of God - 'To gaze and gaze on Thee.' Do we long for that? Is that heaven to us? Is that the thing we want above everything else? It is the thing to covet and to long for.
The apostle Paul tells us that to die is 'to be with Christ.' There is no need to add anything to that. That is why, I believe, we are told so little in a detailed sense about the life in heaven and in glory. People often ask why we are not told more about it. I think there are two answers to that. One is that because of our sinful state any description we might be given would be misunderstood by us. It is so glorious that we can neither understand nor grasp it. The second reason is more important; it is that it is often idle curiosity that desires to know more. I will tell you what heaven is. It is 'to be with Christ,' and if that does not satisfy you, then you do not know Christ at all. 'Whom have I in heaven but thee?' says the Psalmist. I do not want anything else. Where Thou art is heaven. Just to look at Thee is sufficient. 'To be with Christ' is more than enough, it is everything. 'Whom have I in heaven but thee?'
How much do we know of this experience? We have had certain experiences and blessings; there are certain things we know already; but this is the test: Do we know Him, do we long for Him? Just to be with Him, to be conversing with Him. Do we pant after Him? Are we thirsting after the living God and for this intimacy with the Lord Jesus Christ? That is the real Christian experience. How much time do we spend with Him, praying to Him? 'Whom have I in heaven but thee?'
In the same way he goes on to say, 'There is none upon earth that I desire besides thee.' Again let us notice why the Psalmist says this. He says it because that was the very essence of his previous trouble. It was because he was desiring certain things that others had, that he had been in trouble. 'For I was envious at the foolish, when I saw the prosperity of the wicked. For there are no bands [no pangs] in their death: but their strength is firm.' And he had wanted to be like them and to have those things they had: but now he no longer wants them. He has seen through all that. Now, 'there is none on earth that I desire besides thee' - God alone in heaven, God alone on earth,
The Scripture, again, is full of like teaching. This is how our Lord puts it in Luke 14:26, 'If any man come to me, and hate not his father, and mother, and wife, and children, and brethren, and sisters, yea, and his own life also, he cannot be my disciple.' Do not worry about the word 'hate;' it is simple a strong word which makes it clear that any man who puts anyone or anything in his life before Christ is not a true disciple of His. To be a true disciple of Christ means that Christ is at the centre, Christ is the Lord of my life, Christ is on the throne of my being; it means that I love Him first before every one and everything. 'None upon earth that I desire besides thee.' Does He come first in our lives? Even before our loved ones and our nearest and dearest? Even before our work, before our success, before our business, before anything else while we are here on earth? He should be our supreme dear. 'To me to live…' is what? 'is Christ,' says St. Paul. It is to be walking through this world with Christ Himself, to be having fellowship with Him in this life. And because this was true of him, he could also say that he had learned 'in whatsoever state I am, therewith to be content.' Why? Other things no longer control him. It is Christ, it is Christ alone he wants. If I have Christ, he says, I have all and 'I can do all things through Christ which strengtheneth me' [Philippians 4:11, 13]. We are independent of circumstances and surroundings when living on Him and by Him and for Him, and all other things pale into insignificance. Do we desire Him above everything else as we go through this earthly pilgrimage? The Psalmist had reached the point at which he could say that he did.
excerpt from Faith On Trial by D. Martyn Lloyd-Jones
Note: If you purchase one of these books from these links I will make a commission.  Disclosure Policy
---
---