[If you purchase anything on this site, I may make a commission. Disclosure Policy]
Would you like to see what we have written on a subject? Use the search below.
God's Greatest Challenge
"You are my witnesses," declares the Lord, "and my servant whom I have chosen, so that you may know and believe me and understand that I am he.  Before me no god was formed, nor will there be one after me. Is. 43:10, NIV
We know God is All-Powerful, All-Knowing and Always-Present.  Have you ever wondered what His greatest challenge is?  Does God even have one, or is everything easy for the Almighty?

Think about creation.  Our marvellous universe with billions and trillions of stars is perfectly balanced.  The sun, moon and earth are all created perfectly and at the ideal distances.  Being off just a little bit would have created disaster and made life impossible.  What about our bodies?  The more scientists discover, the more they are amazed at the complexity and design.  Was any of this a problem for God?  Of course not.  It flowed naturally out of His creative mind and perfect nature.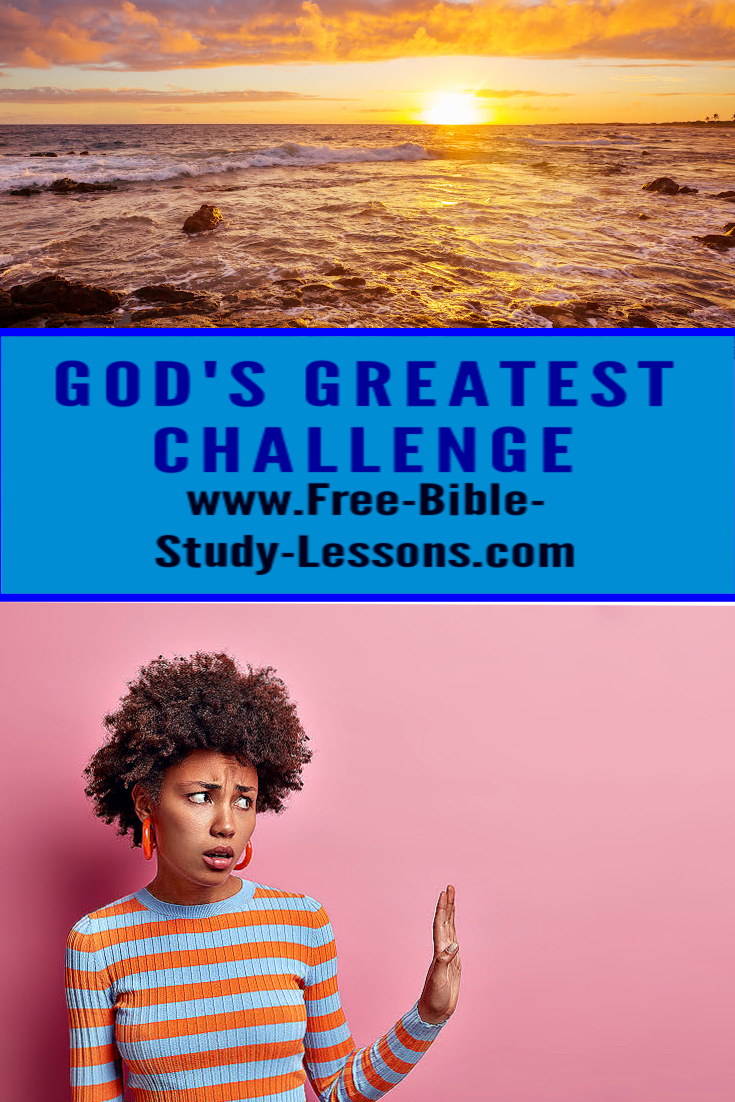 What about Satan?  He and about 1/3 of the angels [it is commonly believed] rebelled against God.  As the most beautiful created being, Satan wanted to be God.  He wanted to transcend the Creator/creation divide.  Was God worried?  Did this become God's greatest problem?  No.  Satan was no threat to God.  God did not even dignify him by engaging with him; He sent His angels to win the war.
What about our redemption?  Was that God's greatest challenge?  Yes and No.  It was God's greatest sacrifice as He sent His dearly-loved, only-begotten Son to conquer the pressures of temptation as a human being and then voluntarily give His life on the cross to satisfy the justice of God for our treasonous rebellion and sin.  We will never understand the depth of the price that was paid.
God's Greatest Challenge
So, what is God's greatest challenge?
I think God's greatest challenge is you and I - i.e. Christians.  Think about it for a moment.  He loved us enough to die for us, He has given us the Holy Spirit to live inside of us, and He has given us His written Word with everything we need to know about Him and life.  We have everything we need to live a successful and fulfilling Christian life bringing glory to God and expanding His Kingdom on earth.  There is nothing more that God could have done for us.
Yet, as Christians, we still often have a wrong view of God.  We think of Him as a harsh taskmaster, uncaring about what we are experiencing, or as a permissive Father Who should give us what we want on demand.  Whenever we think something is going wrong or we experience pain, Who do we suspect and blame?  Usually God.  He has to fight against our wrong or imperfect image of Him constantly.
In Jesus Christ, God has given us back our free will.  We can choose to deny self and live for Him, or we can choose to engage in sinful desires.  Examine your life.  What are the choices you make?  Living righteously for the glory of God is what we were designed for.  It is how we will get the most out of life.  Yet God has a constant battle - yes, with Christians - to convince them that His way is better than Satan's way.
And even in our ordinary life, God has to fight for our attention.  We are often diverted by our family, circumstances, or desires.  How often is building an intimate relationship with our Father a low priority?  
We need to invest time in Bible study, prayer and fellowship with other Christians to be able to discard false ideas of God and see Who He really is.  We have all developed specific pre-conceived ideas about the nature of God and our relationship with Him.  We need to test those ideas against Scripture and eliminate false ideas.  Look at Jesus; He is the perfect image of our Father.  In Jesus, we see what God is really like.
Are we God's greatest challenge, or are we living our lives to the best of our ability for His glory and honour?  It's food for thought.
---
Sign up for our free monthly newsletter or take one of our free Bible Study courses.
Please note: We no longer have the commenting feature [maybe again in the future].  Joshua Institute students who have questions or comments on their courses can use the contact button and mention the course name and lesson number in the email.  Thank you.  Glenn

---
---