Afraid To Die
By D. Martyn Lloyd-Jones
Let me be very practical. There are far too many Christian people who say, "I am afraid to die, I am afraid that in the physical act of death my mind may become clouded; I may lose my faith, or I may say things that I do not really believe; how can I be responsible then?" They are afraid of the dissolution of the body, indeed many are afraid of becoming old, and afraid of the failure of the faculties and powers. But you have no right to be afraid of that. There is nothing that can ever separate us from the love of God which is in Christ Jesus our Lord. You may develop thickened arteries and failure of your brain; you may die in a state that appears like insanity, in which you may almost blaspheme and deny all that you have ever believed; but it will not matter, it will not make the slightest difference. The decay of your body does not affect your relationship to the Lord Jesus Christ. You are "in Him" and the failure and the decay of the body does not matter at all, and what you may do or say as a consequence of that decay will make no difference.

I am emphasizing this because I have known Christian people to be very troubled about it. I was once called to see a saintly old man who was on his deathbed. I was called in by his doctor as well as by the members of his family. They were in great distress because that dear old saint was using the most foul language that I think I have ever heard. One wondered where he had even heard such words. But there he was, swearing and cursing. It was a puzzle and a problem to his family and to everyone else. How could this saint of God be behaving in such a manner? Had he ever truly been a Christian? Was it conceivable that he ever could have been a Christian in view of the fact that he was behaving in this manner? To me it was no problem at all, and for one reason only - the sheer failure of his circulatory system. He was not responsible for what he was saying, he was not himself. He was no longer the man he had been; his poor body was near to dissolution, and mechanism was breaking down, he did not know what he was doing. The man's name happened to be Thomas Davies. What I explained to them was that it was not Thomas Davies who was speaking those things, the trouble was that the poor "tent" in which he had been living was dissolving, was breaking up, disintegrating, and therefore physically and in a "machine" sense he was not functioning as he should have been. But it made no difference whatsoever to his soul and his relationship to God.
Afraid To Die:
Never Taste Death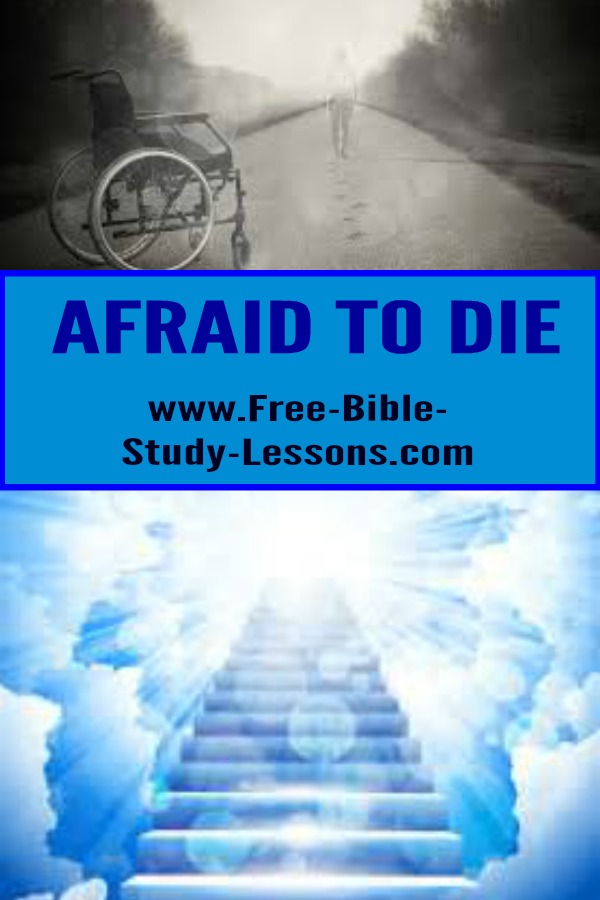 We must believe the words of Scripture when they tell us, "I am persuaded" - I am certain - "that neither death, nor life, nor angels, nor principalities, nor powers, nor things present, nor things to come, nor height, nor depth, nor any other creature shall be able to separate us from the love of God which is in Christ Jesus our Lord." No! death no longer has any dominion over us. You need not be afraid of death; death cannot separate you from Him and from His love. It is incapable of doing so. Its sting has been taken out, it has been shorn of its powers. We may still have to pass through death, but we do not really die, for "he that believeth in me shall never die." Had you realized that you are never going to die? There may be dissolution of your bodily functions and powers, but you are never going to die. But the unbeliever is going to die, he is going to experience the horror of death, he is going to "taste death;" but a Christian will never taste death.
Let us not be misled, therefore, by that which is purely physical; let us "reckon ourselves to be dead indeed unto sin." Indeed I must go on to say this - and this is a further deduction from it - that we must learn to say with the Apostle Paul, that not only as death no more dominion over us, but that death indeed to us is a "gain." He is in "a strait betwixt two," he tells the Phillippians, in the first chapter of his letter to them. He knows it is good for them that he should stay with them; but not as far as he himself is concerned. As far as he is concerned the "good" is to be "with Christ," "which is far better," he says. "For me to live is Christ, and to die is gain." If to die is gain, death cannot have any dominion over him. A thing that tyrannizes over a man, and has dominion over him is not gain. But it is no longer that, Paul says. He can smile in the face of death; death has no power over him, has no legal rights to him. It is the will of God, perhaps, that he should be required to pass through it; but it is gain. He has a complete victory over it because it leads him immediately into Christ's presence. "To be with Christ, which is far better."
These are things which we are to reckon, these are the things we are to remind ourselves of constantly. We look into the future; we do not know what is going to happen to us. Many things may happen to the body, but that does not matter. If we are "in Christ" we have finished for ever with the dominion and the rule and the reign of sin and of death. We have nothing to look forward to except complete and perfect glory. Death, as far as we are concerned, is such a defeated enemy that to pass though it really becomes the greatest gain imaginable. And that is why it is really sinful for those of us who are Christians to be afraid of death in any shape or form. It is sheer ignorance of what it means to be with Christ, it is sheer ignorance of the glory to which are are going, the "mansions" which Christ has "prepared" for us, and of our reception. That is part of the meaning of this statement, "Reckon ye yourselves also to be dead indeed unto sin."
This excerpt on Afraid To Die is taken from D. Martyn Lloyd-Jones' book: Romans Exposition of Chapter 6: The New Man.
Don't be afraid to die. Take our course on Death and Beyond. Discover what the Bible teaches on this vital topic.
Note: If you purchase one of these books from these links I will make a commission.  Disclosure Policy
---
---