[If you purchase anything on this site, I may make a commission. Disclosure Policy]
Would you like to see what we have written on a subject? Use the search below.
God Of Isaac

"'I am the God of Abraham, the God of Isaac, and the God of Jacob'  He is not the God of the dead but of the living." Matt. 22:32

We know that God was the God of Abraham.  Abraham was not a perfect man, but he did believe God and put his beliefs into action.  He was a man of obedience and God entered into a covenant relationship with him.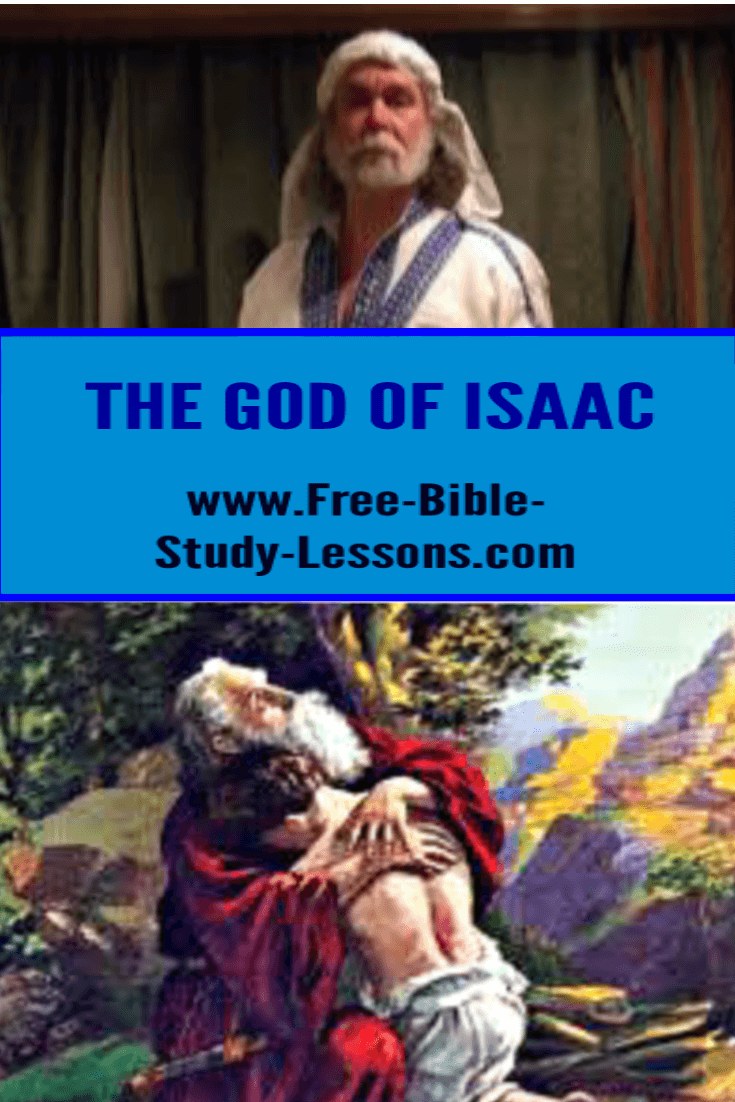 God is also known as the God of Isaac.  Isaac was the son of promise that Abraham waited so long for.  Isaac was the man in the middle.  He lived in the shadow of his great father and it was for his son, Jacob, to found the nation of Israel.

In some ways Isaac is a picture of Christ.  He was the promised son born supernaturally.  His father was told to offer him as a sacrifice and Isaac, who was probably in his early twenties, voluntarily got on the altar just as Christ would voluntarily offer His life.

Other than that he seemed to live a quiet rather inactive life.  He was 40 years old when he got married.  He enjoyed his food and played favorites with his sons.  Not really a remarkable or outstanding personality or character.  Why did God identify with him?

The most important reason, of course, is that God was in a covenant relationship with Abraham which extended to his descendants.  God keeps covenant.  We do not earn that relationship, God gives it.  We also, as Abraham's spiritual descendants, are in a covenant relationship with God through Jesus Christ.  Just as God was the God of Isaac so He is our God.  He is not ashamed to be identified with us even though we are less than perfect.  What a great God we have!

This also points to the fact that not everybody is called to a dramatic purpose in the Kingdom of God.  Yes, there are Abrahams, Moses', Davids, etc. but there are many people who do nothing great in the eyes of the world.  They live out their lives, loving God, their family and friends, and doing ordinary things to the best of their ability.  God has a place for everyone: the Abrahams and the Isaacs.  We do not have to act like second-class citizens in the Kingdom Of God because we are not high profile people.  Everyone is necessary and important in the Kingdom of God.

On Judgment Day Jesus is not going to ask us what great things we did for Him.  He is simply going to ask if we did what He asked us to do.  The world measures success by results, Jesus measures success by obedience.  The unknown mother working to raise a Godly family can be just as successful in the eyes of God as the martyr in North Korea.  Each has their calling and is to be faithful to it.
For more information about Glenn Davis, see our About Glenn page or visit Glenn Davis Books.
---
Sign up for our free monthly newsletter or take one of our free Bible Study courses.
Please note: We no longer have the commenting feature [maybe again in the future].  Joshua Institute students who have questions or comments on their courses can use the contact button and mention the course name and lesson number in the email.  Thank you.  Glenn

---
---