Grace To Keep The Law
By D. Martyn Lloyd-Jones
What then is the relationship of the Christian to the law?  We can put our answer in this form.  The Christian is no longer under the law in the sense that the law is a covenant of works.  That is the whole argument in Galatians 3.  The Christian is not under the law in that respect; his salvation does not depend upon his keeping of it.  He has been delivered from the curse of the law; he is no longer under the law as a covenant relationship between himself and God.  But that does not release him from it as a rule of life.  

Now I think the whole trouble tends to arise because we have become confused in our minds as to the relationship between law and grace.  Let me put it like this.  We tend to have a wrong view of law and to think of it as something that is opposed to grace.  But it is not.  Law is only opposed to grace in the sense that there was once a covenant of law, and we are now under the covenant of grace.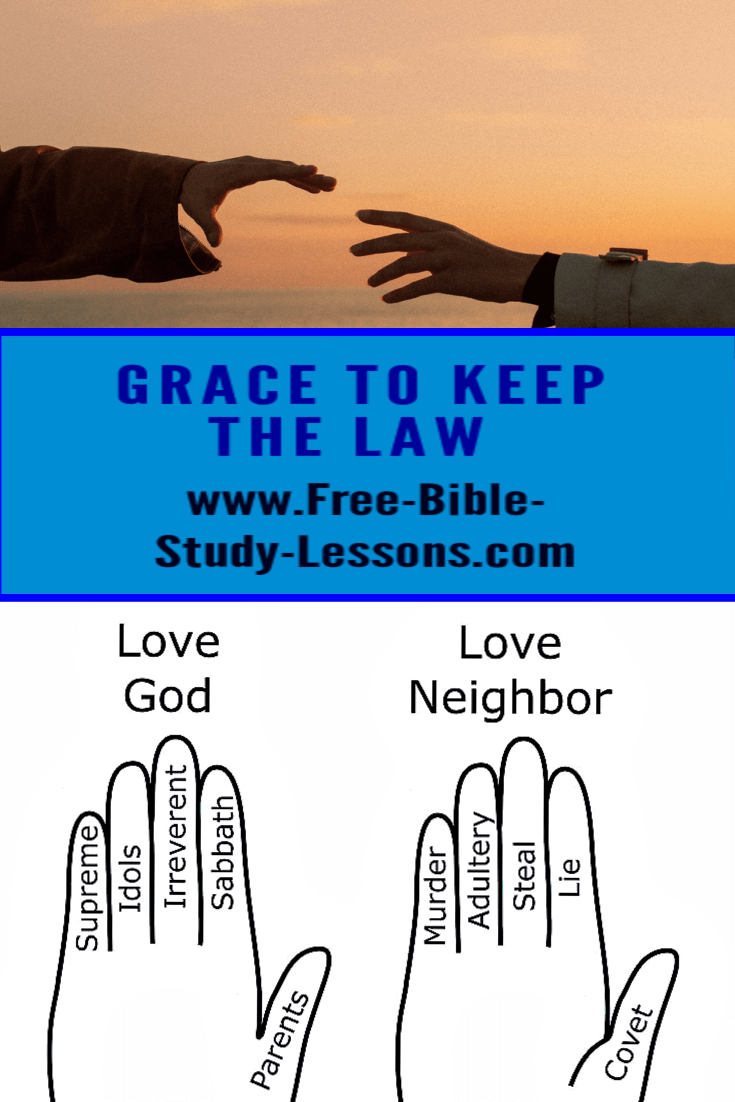 Nor must the law be thought of as being identical with grace.  It was never meant to be something in and of itself.  The law was never meant to save man, because it could not.  Some people tend to think that God said to the nation, 'I am now giving you a law; you keep that law and it will save you.'  But that is ridiculous because no man can save himself by keeping the law.  No! the law was 'added because of transgressions'.  It came in 430 years after the promise was given to Abraham and his seed in order that it might show the true character of God's demands, and that it might show 'the exceeding sinfulness of sin'.  The law was given, in a sense, in order to show men that they could never justify themselves before God, and in order that we might be brought to Christ.  In Paul's words it was meant to be 'our schoolmaster to bring us unto Christ'.
You see, therefore, that the law has a great deal of prophecy in it, and a great deal of the gospel.  It is full of grace, leading me to Christ.  We have already seen that all the sacrifices and the ceremonial in connection with the law were also designed to do the same thing.  That is where the critics of the Old Testament, who say they are not interested in the burnt offerings and the ceremonial, who argue that these are but pagan rites which the Jews and others employed and which can therefore be explained away in terms of comparative religion, that is where such people are really denying the New Testament gospel of the grace of God in Christ.  All the rites and ceremonial were given to Israel in detail by God.  He called Moses up into the mount and said, 'See…that thou make all things according to the pattern shewed to thee in the mount.'
We must realize, therefore, that all these aspects of the law are but our schoolmaster to bring us to Christ, and we must beware lest we fall into a false view of the law.  In the same way, people have a false view of grace.  They think that grace is apart from law and has nothing to do with it.  That is what is called antinomianism, the attitude of people who abuse the doctrine of grace in order to live a sinful, slack or indolent type of spiritual life.  They say, 'I am not under the law, but under grace, and therefore it does not matter what I do.'  Paul wrote his sixth chapter of Romans to deal with that: 'Shall we continue in sin, that grace may abound?  God forbid', says Paul.  That is an absolutely wrong and false view of grace.  
The whole purpose of grace, in a sense, is just to enable us to keep the law.  Let me put it in this way.  The trouble with us is that we so often have a wrong view of holiness at this point.  There is nothing more fatal than to regard holiness and sanctification as experiences to be received.  No; holiness means being righteous, and being righteous means keeping the law.  Therefore if your so-called grace [which you say you have received] does not make you keep the law, you have not received grace.  You may have received a psychological experience, but you have never received the grace of God.  What is grace?  It is that marvellous gift of God which, having delivered a man from the curse of the law, enables him to keep it and to be righteous as Christ was righteous, for He kept the law perfectly.  Grace is that which brings me to love God; and if I love God, I long to keep His commandments.  'He that hath my commandments, and keeps them,' Christ said, 'he it is that loveth me.'
We must never separate these two things.  Grace is not sentimental; holiness is not an experience.  We must have this new mind and disposition which leads us to love the law and to desire to keep it; and by His power He enables us to fulfill the law.  That is why our Lord goes on to say in verse 19 [Matt. 5], 'Whosever therefore shall break one of these least commandments, and shall teach men so, he shall be called the least in the kingdom of heaven: but whosoever shall do and teach them, the same shall be called great in the kingdom of heaven.'  That was not spoken only the the disciples for the three short years they were to be with Christ until He died; it is permanent and everlasting.  He enforces it again in Matthew 7, where He says, 'Not everyone that saith unto me, Lord, Lord, shall enter into the kingdom of heaven; but he that doth the will of my Father which is in heaven.'  What is the will of the Father?  The ten commandments and the moral law.  They have never been abrogated.  He 'gave himself for us,' says Paul to Titus, 'that he might…purify unto himself a peculiar people, zealous of good works.'  'Yea,' says our Lord, as we hope to consider later, 'except your righteousness shall exceed the righteousness of the scribes and Pharisees, ye shall in no case enter into the kingdom of heaven.'
Excerpt from Studies In The Sermon On The Mount Vol. 1 by D. Martyn Lloyd-Jones.
Note: If you purchase one of these books from these links I will make a commission.  Disclosure Policy
For more information about Glenn Davis see our About Glenn page and/or his Author's Page.
---
---