A Blood Covenant
And How It Is Made
By Rev. LeRoy Davis
adapted/edited by Glenn Davis
In The Making Of A Blood Covenant you are going to begin a wonderful and life-building journey. Very little is taught on the covenants - and even less on the making of one - and yet it is vital to a complete and unified view of Scripture. This study will give you a greater appreciation, understanding, and confidence in the love of God and God's commitment to you. If you struggle with sin, understanding God love, or confident Christian living this course on the blood covenant will open your eyes to a whole new relationship with Jesus.
In this series we are going to be looking at the process of making a covenant of blood and how it relates to the work of Christ on our behalf. God relates to us on the basis of covenant. The foundation of our relationship with God is built on the foundation of an unbreakable covenant of blood that God made first with Abraham and secondly with Jesus Christ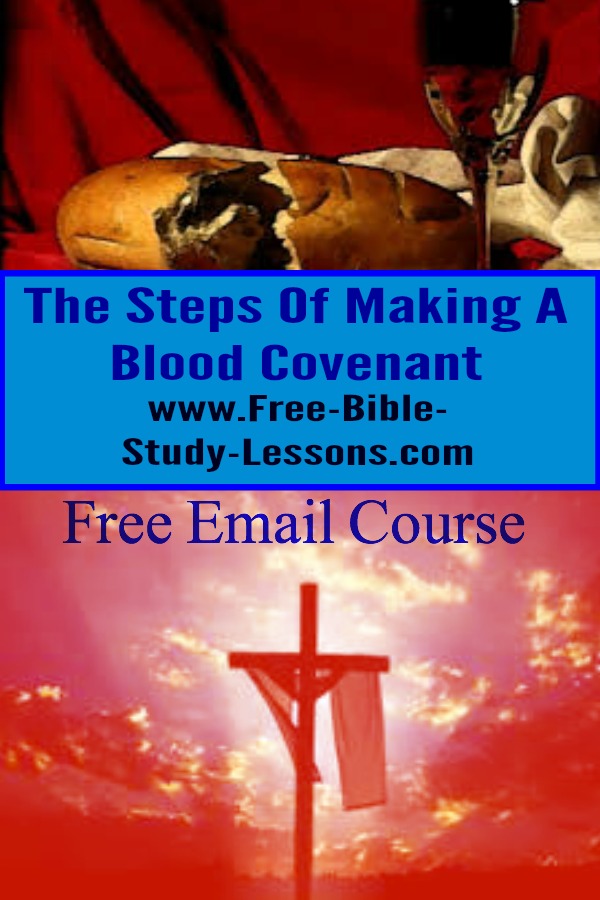 There are several things we need to realize at the beginning.

First, God made the blood sacred. It was symbolic of the blood of Jesus Christ shed on our behalf to atone for sin. In the Bible and among covenant believers the blood has always had special importance.
Second, it was the practice of the people of Bible times to enter into covenants of blood with each other. Blood was looked upon as life itself. Not only a symbol of life, but also very life itself. To share blood in covenant making was to share the same nature. Consequently, the relationship of blood covenant was the highest it was possible to have. It superseded natural [i.e. family] relationships. A blood brother was closer than a natural born brother. It was the priority relationship.
Third, the blood covenant is a pledge. It's the pledge of life and resources on the part of the covenant partners. There was a totally unqualified commitment of each one to the other. Failure to live up to the demands of that covenant meant death...
To take this course fill in your name and e-mail address. The first lesson will be in your inbox quickly. The remaining ones will follow every seven days.   If you do not receive your first lesson within an hour check your junk mail folder as sometimes random lessons are delivered there [even when others have gotten through] and also recheck to beside you entered your email address correctly.
God Bless
Glenn Davis
Sign up for this free and complete email course now.
After taking the above course, you may be interested in these books.  I highly recommend Kay Arthur's book.

Note: If you purchase one of these books from these links I will make a commission.  Disclosure Policy
For a detailed look at the blood covenants God made with mankind take our complete course by Rev. LeRoy Davis.
For more information about Glenn Davis see our About Glenn page and/or his Author's Page.
Would you like to see what we have written on a subject? Use the search below.
---
---